Electric Loft Ladders.
Make the most of your loft and home with the Skylark Electric Foldaway Attic Stairs. This premier 3 section electric foldaway attic stairs is at the top of its class for craftsmanship and design.
With its unique design the Skylark comes in a compact unit with trapdoor and fixed frame all of which are insulated and draft sealed. Fantastic U-Value Of 0.71, stairs are also airtight. Upgrading From Your Current Loft Ladder May Be Very Possible With The remote controlled Skylark Electric Foldaway Stairs.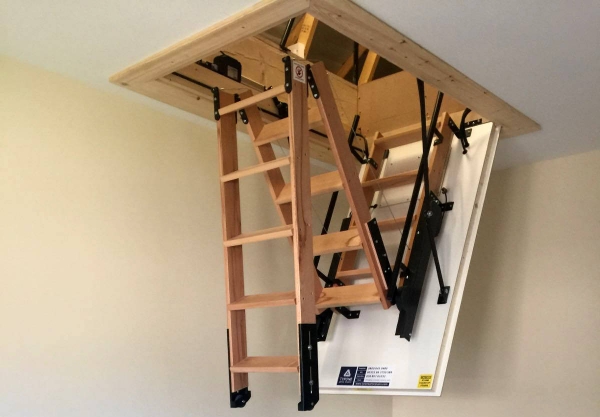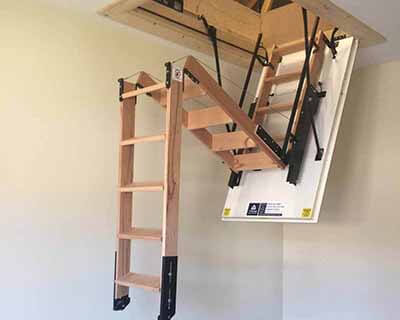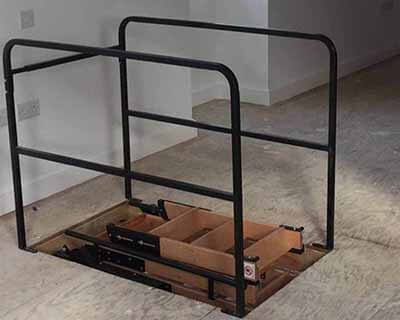 Made From Beech Hardwood/Aluminium/Red Deal With a Beautiful Lacquered Finish
To Operate Just Push & Hold The Button On Your Remote Control & Watch This Beautiful Stairs Open & Unfold
No Manual Effort Needed
Can Be Made In A Wide Range Of Sizes To Suit Your Needs
Supplied With One Remote Control. Also Power Pack With Battery Backup In Case Of Power Outage
Working Load Of 150KG
Complete With 2 Handrails & The Stairs Are Designed With Steps Which Are Just 230mm Apart For Safe Climbing
Maximum Extended Length Of Opening 2.0m
Minimum Extended Length Of Opening 1.2m
Product Width 650mm-800mm
Suitable For All Ceiling Heights
10 Year Warranty
5 Week Lead Time As It Is Made To Order
All loft ladders include, Non-Slip treads set flush with ladder strings, stile ends, white hatch, three seals and handrail. Plus the possibility Of installing additional accessories.