Loft Insulation.
Keep your house warm in the winter and cool in the summer with Knauf Insulation.
Loft insulation works by creating a barrier to the hot air which is rising from the lower levels of your house towards the roof. We all know that hot air rises and it will easily escape through your roof unless you place something in its way. The air pockets in insulation trap that hot air and prevent it from being lost into the atmosphere.
It is recommended that at least 200mm – 270mm thick insulation is used in the loft of all homes. At this level, the least amount of heat will be lost. In most cases insulation is made from mineral wool or natural wool. Sometimes a light mineral wool and cellulose mix is blown into your loft, although this can be messy. Otherwise you can buy boards made of polystyrene which can be fitted between the floor joists.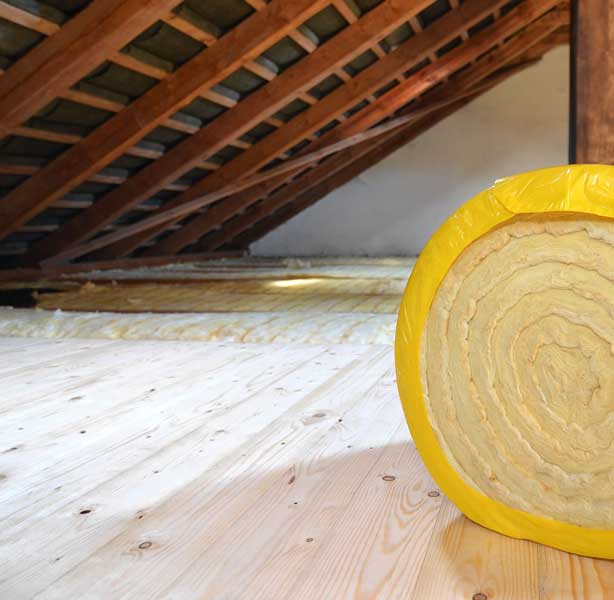 The benefits of loft insulation
You will prevent up to one half of the heat generated in your home from disappearing through the roof.
You could save up to £110 each year on an ongoing basis by simply installing a few rolls of loft insulation.
Gas and electricity costs will reduce.Government or energy company grants could mean that you can have loft insulation either cheaper or for free.
Your home will be producing less carbon, saving the environment.
Your home will be warmer in the winter and cooler in the summer.
You will have fewer problems with condensation.
You will notice a reduction in noise coming from outside especially to the upper levels of your home.
Your home's Energy Performance Certificate rating will be improved which will have a positive effect on the value and saleability of your home.
All loft ladders include, Non-Slip treads set flush with ladder strings, stile ends, white hatch, three seals and handrail. Plus the possibility Of installing additional accessories.