Retractable Loft Ladders.
Would you love to access your loft with ease? Maybe you want to use it for storage, make a spare room or somewhere for the kids to hang out. This is all achievable with retractable loft ladders.
Retractable loft ladders are the easiest way to get into your attic. They are powered by electric and with the simple touch of a button the ladder unfolds itself enabling you to climb into your loft to use it how you wish.
We offer 2 types of retractable loft ladders, full electric or semi automatic. If you have high ceilings then one of these are the perfect choice for your home.
If you are looking a retractable loft ladder on a budget, we offer a manual folding loft ladder which simply folds up in 2-3 sections by hand. This ladder is the most popular within our range.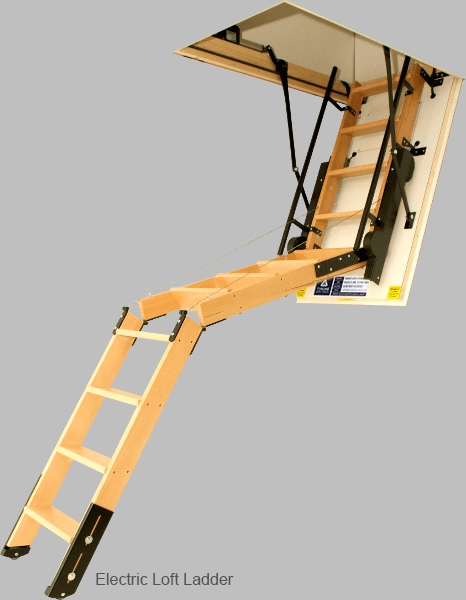 Full Electric Attic Stairs
The retractable electric loft ladders which are full electric are the perfect choice for someone who is age restricted or has health problems who in turn would not be able to pull down the manual folding loft ladders.
The electric attic stairs unfold from 2-3 sections with the simple press of a button.
Semi Automatic Loft Ladders
The semi automatic version within our retractable loft ladders range is a strong domestic attic stair that is built to last a lifetime. Its unique design enables them to be custom built to accommodate for extra high ceilings, extra large trap doors or for tight spaces.
If you have any questions regarding any of our retractable loft ladders you can get in touch with our expert team for help and advice.