Skirting Board Fitters, NI & ROI.
Tyrone Attic Stairs specialise in all types of household joinery. If your looking to change your skirting boards and are on the search for fitters, we can help.
We offer supply and fit skirting boards, the entry level is MDF skirting board, then a choice of various woods.
We take away the hassle of measuring, ordering, delivery and the DIY blunders! Once we agree a price and product, you can get on with your day knowing your work will be done to an exceptional standard.
Types of Skirting Board Material
MDF Skirting Boards
Soft Wood Skirting Boards
Hardwood Skirting Boards
There are various types of skirting board profiles to choose from. One of our team will help you pick what is right for your project. Get in touch today to discuss.
MDF Skirting Board
Becoming increasingly popular in the turnkey housing market MDF is a popular choice and widely used throughout the UK & Ireland. MDF skirting provides a good low maintenance solution as it normally comes pre primed or painted. It has warp and swell resistance making it ideal for internal works.
A popular question we get asked is can you varnish MDF skirting? The short answer is No. MDF doesn't have wood grain, it is porous and as it comes pre primed or painted, varnish would not cover over the paint.
MDF Skirting is the best choice for someone on a budget that wants a painted finish skirting.
Softwood Skirting Board
If you are wanting a natural looking wood finish then Softwood Skirting Boards are probably the option for you. Softwood enables you to varnish and provide a natural look. Softwood is also suitable for painting.
In general there would be more profile height options with Softwood skirting vs MDF. The starter level pine material pricing is similar to MDF.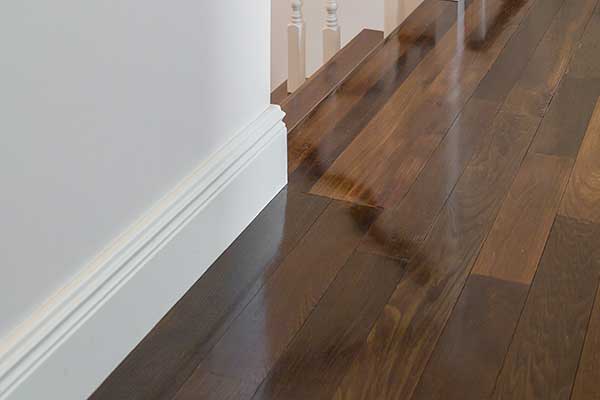 Hardwood Skirting Board
If you want to ooze quality, then hardwood skirting boards is the option to select. Solid Wood is considerably more expensive than the above.
Hardwood skirting board finishes are available in  Ash, Oak, Walnut and Beech. It can be ordered pre oiled or stained and is usually machined to order.
Hardwood is tougher and more durable against knocks or scuffs etc. If your budget doesn't stretch to this level then you can get a suitable softwood and finish it in the colour you desire.
We might not realise it but skirting boards is one of the most looked at items in a home. Often it can look untidy or jointed very poorly when attempted as a DIY project. Don't leave it to chance, get the professionals in, click the button below for a fast same day quote!