Attic Stairs.
Space Savings – Fakro Loft Ladders require little swing space for operation. When folding, the sections are concealed inside the Loft Space, maximising space in the room below.
Ease Of Operation – The compact structure of the hatch facilities ease of operation of the Loft Ladder. An opening rod is supplied with every Loft Ladder enables the user to open and close the unit with ease.
Ease Of Installation – The installation system ensures that the ladder can be easily installed by two persons. Height can be easily adjusted to suit room height. Ladders come as fully assembled products and do not require any additional pre-installation work.
Additional Equipment – In order to maximise comfort and accelerate installation of the Loft Ladder, additional accessories are available.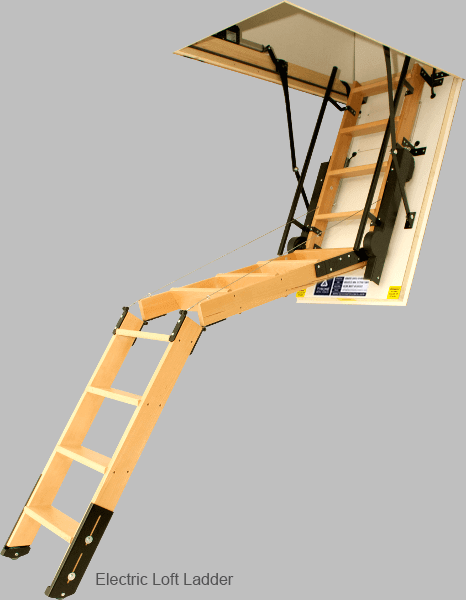 Skylark Electric Foldaway Attic Stairs.
Make the most of your loft and home with the Skylark Electric Foldaway Attic Stairs.
This premier 3 section electric foldaway attic stairs is at the top of its class for craftsmanship and design.
If you are looking for luxury and reliability, at a great price but haven't the space for fixed stairs, the Skylark could be your solution.